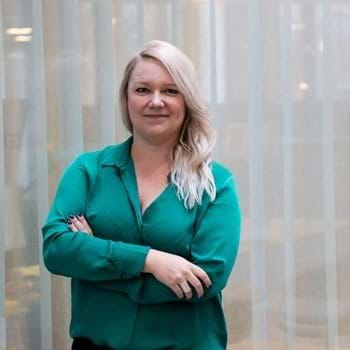 Hanna
Karppi
Hanna will deliver this talk in partnership with Sharon O'Dea
Hanna drives the Nexer business unit specializing in digital worklife solutions, which combines both technical and human aspects. Hanna has over 10 years of experience of digital workplace projects, change management and digital communications both in Nordic and Global organizations.
Before Nexer, Hanna worked as Head of Digital Workplace for Skanska Group and led the implementation of digital workplace tools for over 40,000 office and manual workers around the world.
Hanna is an enthusiastic networker and frequent conference speaker. She has also been a jury member for several global and European digital workplace and intranet awards.
A Human-Centred Future Of Work
Work is becoming more complex, a trend that only looks set to continue in the years ahead. Technology is supposed to help people to get work done, but often it has the opposite effect, of adding to that complexity. 
To make work better and ensure tools support that more complex future we need to design and configure that technology for humans - messy humans with complex working lives.
In this talk, we'll share ideas on preparing for the future of work by making it more human-centred. We'll cover the need for insight into employees' needs, the importance of digital employee experience and how digital can help rather than hinder the employees of the future.