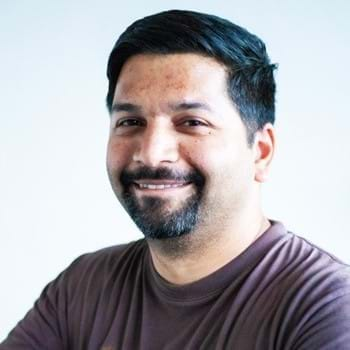 Trilly
Chatterjee
Trilly Chatterjee is a Senior Product Manager and Practice Lead for Product at NHS Digital, where he supports the growing professional community of product managers and their teams across public health. 
Before this, he co-led a cross-departmental team from DWP & HMRC to conceive and deliver the award-winning Check Your State Pension digital service.
Trilly enjoys helping multidisciplinary teams to think collectively and organise effectively. He believes the future of public service lies in building institutions that are capable of making the most of everyone's perspectives, talents and contributions.


This Is For Everyone - What a digital future could mean for the NHS
After arguably two of the most challenging years in its existence, 2022 heralds a new phase of change for the NHS. Here a shake up of organisation and accountabilities at the centre coincides with a system-scale push toward more integrated and collaborative models for planning, designing and delivering healthcare services.

In this talk, Senior Product Manager and Practice Lead for Product at NHS Digital Trilly Chatterjee reflects on the challenges of 'doing digital' at system scale - drawing on the many lessons and achievements of NHS Digital both prior to and throughout the pandemic. He also reflects on his own experiences supporting the evolution of digital practice and capability in the NHS, offering an insider's take on the road ahead.
Thank you very much everyone.

I'm gonna be a little bit more podium-based so apologies for the lack of visual dynamism there. I'm Trilly, I'm a senior product manager and I'm also a practice lead for product management working in NHS digital, and today I'm going to tell you a story. But it's not the story of an individual or a team, it's a story about the evolution of digital practice at the centre of the NHS. Where it's been, whereabouts it is now, where it's likely to go in the years ahead of us. And as it's not the story of a particular person or group, the talk is likely to feel a little bit macro but in a way that's kind of the point.

Systems like the NHS are by their nature vast things taken as a whole. The NHS is the fifth largest employer in the world after the US Department of Defense, the People's Republican Army of China, Walmart and McDonald's. And it's the world's largest employer of highly skilled professionals, and I want to talk to you about this right now because right now the NHS is embarking on some pretty significant changes over the coming months and years. And in a variety of ways digital work is going to become more central to that change, at least in theory. So what I hope you take away is a sense of the trajectory of digital practice within the NHS and what that might mean for its future.

First of all, I'd like to take a moment to acknowledge the inspiration for the title of this talk. This sticker as you can see was among the first to grace my work laptop when I joined NHS digital back in 2016. It was made by Simon Wilson who's a designer who's put in several stints at NHS digital over the years, including on the NHS website and on COVID projects more recently like the national vaccination booking service. For me this has always been one of the neatest encapsulations of the universalism that is one of the foundational values of the NHS, and it's a huge part of the motivation for the work that we do. I was meant to bring a stack of these stickers that Simon gave me to the conference, but sadly I forgot them so after the day I'll probably pin a tweet on my profile and if you'd like one please just hit me up. I'll probably regret saying that but there we go. So to begin with, here's a bit of an inspirational intro to what we do at NHS digital.
NHS digital keeps the NHS connected, they keep critical systems running, they help clinicians share vital information and they maintain the infrastructure that lets patients and practices manage appointments, prescriptions and health records efficiently and securely. They focus on what digital technology can do for patients for people in social care, for healthcare professionals, for everybody. By understanding our journeys and the challenges we face they build the digital tools we need to deliver better care every time people come into contact with social services, the NHS or care providers. That creates valuable data. It's the job of NHS digital to collect that data and put it to work to help organisations plan and prioritise more effectively and to support research that leads to new medicines and treatments for future generations. At NHS digital this is how we work. We design, develop and operate national IT systems, data services and digital products. We improve data, we improve technology, we improve lives.
So that's us. NHS digital. We're the national digital data and technology partner of the NHS and the social care system that means we design build deploy operate national digital products and services and data services for the NHS the things we make and maintain are used by NHS staff and providers both clinical and non-clinical NHS patients and the wider public and researchers both in the NHS and in the wider life sciences sector. And because we serve so many people in so many ways there's inherently a lot of diversity in the kinds of work that we do, but the very nature of our role.

Our work has to match the breadth of applications across the health and social care system, and just to give you a little bit of a sense of that, I pulled together I appreciate this slightly text-heavy table, just to get some sense of the breadth of work we're involved in. We employ around 6000 people around all of the areas listed here and more, and to be clear this still isn't everything, it's just a reflection of the selection of the major programs within our three core product developing directorates. Beyond this we also have key areas in IT and cyber operations as well as governance, assurance and corporate services functions, all of which underpin our role within the wider NHS.

It's worth me noting that when I joined the organisation we weren't organised like this. We had I think something like 30 major change programs. We were all organised into domains labelled a-through-j. Today we have a much more logical legible org structure which is something that's easy to underestimate the value of, but as we know on our lessons about good services, labelling things well is the first step to meaningfully joining them up. In almost six years working in the department, I've worked in just two of those areas, namely citizen health technology and urgent and emergency care.

So to fully acknowledge my biases, what I'm sharing will skew towards these areas of work because those are the ones I'm most familiar with. But before I do that I just wanted to take a moment to acknowledge the full breadth of the work that we do, because there's so much more than I can do justice in 40 minutes. I think you could spend easily spend a large part of your career working at NHS digital and continue to routinely find new meaningful exciting challenges that move the needle on major issues in health and social care. So that's who I am and that's who we are.

How does one talk about digital in the NHS as a system? Well, as my entry point was through the NHS website I felt it most natural to begin with a brief history of NHS websites. Specifically, caveat, the national ones not local ones your local hospital or GP provided. So come with me as we go back, Wayback. By show of hands, how many people here are aware of the Wayback Machine? I thought I'd do well in this crowd, thank you. Okay the Wayback Machine for those of you who don't know. It's a perpetual archive of a huge range of websites worldwide, maintained by dedicated web callers and contributions from volunteers.

The way it works is you put in a URL and you choose a date from the available archive and you can go back in time to see what the website looked like at various points in history. But some even go back as far as the mid-90s. This thing is magical. I can highly remain recommend spending at least one evening with the Wayback Machine and your pure unfiltered curiosity about the history of the web. You will learn everything and nothing all at once. Anyway, let's go back to the year 2000 because why not. If you visited NHS UK around this time, this is what you would have seen. As you can see the main call to action is for a helpline called NHS direct. NHS direct was a 24/7 health advice and information service for England that launched in 1998 offering health care advice to people all day, every day. NHS direct was nurse-led so anyone answering the phone would be a nurse and it went on to have its own online offerings including web-based symptom checkers and eventually its own iPhone and android smartphone apps, which are now lost to the mists of time. Fun fact. In 2004 NHS direct also launched a digital television service with containing roughly 3 000 pages from the most top 500 most popular topics from the NHS direct website.

People could even use their digital televisions to search for their nearest doctors, dentists, pharmacies and opticians with a service offered via Freeview. Now that idea might sound a little quaint today but at the time it was a genuine attempt to reach people who may not have had access to NHS direct via the internet. To meet people where they were rather than we thought where they ought to be. Jump forward in time now to 2007 the year of the first iPhone and what we can now see maybe in retrospect is the beginning of the smartphone era as we know today. In 2007 the NHS website was relaunched under a new brand, NHS choices. And as that name implies and as I've highlighted in the yellow box at the bottom there, as well as having all the same clinically improved health encyclopedia-type content and the ability to find local healthcare services, NHS choices also had a renewed focus on offering people advice to help them make healthier lifestyle choices.

In fact, NHS choices launch coincided with a big push by the government and NHS of the day to encourage people to stop smoking. So if anybody remembers the ban on indoor smoking in public places, that came into force in England about a week after this screen was captured. To this day NHS website teams still support the online components of many national public health campaigns including better health and the ever-popular Couch to 5k. However, with the choices relaunched the links to the NHS direct source service became less prominent. In fact, NHS direct maintained its own separate online presence more directly linked to the telephone service.

We jump forward again, this time six years to 2013. NHS choices is still the primary online presence for the NHS. It remains a trusted source of health and care content that it provides including well-researched responses to prominent health stories in the news and publication of performance data about the services in its service search, as shown here. Also, NHS choices starts to develop its own social media presence. However, despite being well recognized for the breadth and accuracy and quality of its health content, cracks in the overall user experience of the site are starting to show, especially as more people start accessing the web routinely by their smartphones.

The design of the site is clunky, not at all mobile responsive and the underpinning technology makes changing that difficult as the amount of content on the site grew, with the frequency also limited by the technology, it became harder both to understand and to navigate the content that was there. Furthermore, as the primary presence of the NHS on the web the site, was guarded by many in the NHS and government as the default home for public-facing content, driven by broader health policy initiatives.

But those initiatives were often not reconciled with a clear view of who the primary users of the site really were. Now if these issues could be addressed the potential existed to achieve much more. So that's where we stood around the middle of the last decade. Looking back in retrospect, I now see a period from about 2014 to 2019 as a period of the emergence of user-centred design practice within NHS digital, which also encompassed the development of a range of new and improved national digital health services. It's really important for me to say referring back to my earlier table, this is by a very long way not the whole story of what we did as an organisation, but it was also a period where many of the most publicly visible digital services for the NHS were being designed with a user-centred mindset and approach for the first time.

So here we are back with the artist formerly known as NHS choices in 2014, a team from DHSC Department for Health and Social Care joined the team working on NHS choices to investigate how the ways of working pioneered by the government digital service could be adapted to the context of health and care. And these periods were referred to colloquially as the NHS alpha and the NHS beta period. During these periods more fundamental questions were being asked about the needs NHS choices was and wasn't meeting, and new design approaches were explored to better meet those needs. I joined the team late in 2016 during the beta period.

I supported the migration of the huge wealth of site content onto a new open source content management system and development stack, which in turn enabled major improvements to both website design and the content creation and editing workflow. By decoupling the content editing process from the normal release cycle, it meant we could make content changes far more rapidly. And this was coupled with significant improvements in the general design, usability and accessibility of the site. Over several years, multiple teams worked on elements of the redesign, including new and improved content and a revised information architecture.

All of this ultimately culminated in a brand refresh of the site around 2018 where the NHS choices brand was finally retired, and we became simply the NHS website. As work on the site progressed, the need to help more NHS teams deliver consistently designed digital services became more pressing. Work began on the NHS's own digital service manual and design system. Where possible this drew on the work already done by the gov.uk design system, front end library, prototyping kit and service manual. Why re-invent the wheel. However, there were obvious differences in the needs and relationships that people had with the NHS relative to government, and that was where a lot of our work was.

The man with the lovely grin on your screen is Dean Vipond, a long-time lead designer on the NHS website who I'm sad to say no longer works with us and has moved on to other things. I mostly included this photo because we will miss him immensely. He has since posted an unofficial history of the NHS design system on medium that is well worth a read if you are interested. So continuing the theme of helping others in the NHS make simple consistent services, NHS digital also started to provide more support for developers working on digital NHS services. Here you can see our developer API catalogue, open to those working on core NHS point of care and patient facing services, as well as APIs to syndicate content and features like a service search from the NHS website.

All of these things developed with aid and feedback from the developers and users themselves. 111 online, as the name suggests, was the online companion to the 111 telephone service which replaced the NHS direct service that I mentioned earlier in around 2013. 1 online was launched in late 2017. Like the phone service, its aim is to help people understand what to do about a health concern that they are uncertain about, and then connect them with the most appropriate response or service to deal with that issue.

Part of the goal is to give people confidence that what they're doing is the right thing, given what they know. Like the telephone service, 111 online is underpinned by NHS pathways where I now work, which presents a series of questions to ask about the health issue and ultimately determines what the most clinically appropriate response ought to be. So, between someone calling 111 and someone using 111 online, the underlying clinical decision path is the same but the nature of the interaction with the user, so reading and answering questions versus speaking to someone on the phone, is different. Much of 111 online's work is in understanding the particular needs and opportunities that arise from that difference. And now we also have in our national suite of products the NHS app. So that was this was announced by the Secretary of State for Health in 2017 and launched at the end of 2018, and the features it had at launch included viewing a GP record, ordering repeat prescriptions, booking appointments at participating GP practices and registering your organ donation preferences.

So that was our emergent phrase and quite a brief brisk canter through national public digital facing services, and how they've changed over the past two decades. At this point our history leads us into the last couple of years which as I'm sure you'll appreciate thrust our organisation into the heart of a much larger set of challenges. I'm sure we all have our own memories of this moment. The first time the Prime Minister stood in front of a podium on TV to brief the nation about the emerging threat of coronavirus. I was in the kitchen on the fourth floor of Skipton House where we were based at the time, watching the briefing with some of the website team who had just ensured that the public health advice behind that URL on the podium was ready for everyone in the country. And it was a surreal moment.

A couple of weeks earlier I was working on a team looking at how best to redesign the service finders on the NHS website and one Monday in early March my head of product Becky called me into a meeting room and told us our team was being temporarily disbanded. The reason was that 111 online needed more people to support it with the sheer volume of change it was anticipating in response to an emergent pandemic scenario, and we were being drafted in to provide that support. We all got used to hearing the word unprecedented over the coming weeks and months but at this moment none of us could anticipate the magnitude of what would come next, and how it would touch and invariably consume all of our lives for the foreseeable future. What of that future was foreseeable as I'm sure you'll remember was very little. The uncertainty for everyone was radical.
Those next few months were phenomenally intense as the whole system and the wider world came to grips with the realities of a new global pandemic disease. Within weeks however it became clear to many of us the previous years of work to change the way in which we delivered some of the most prominent digital services in public health had given us a fundamental edge in the time of crisis. Beyond the services themselves, the work we had done together gave us capabilities that the pandemic demanded of us in abundance. The skills and experience to develop a nuanced understanding of people's complex needs and circumstances, the ability to continuously test and refine our service designs in the wild, giving us confidence that we continue to meet people's most fundamental needs. And as circumstances evolved, the ability to respond pragmatically to uncertainty and change, all whilst remaining focused and purposeful in our work. Three years ago my colleague Matt Edgar stood on this very stage I believe, and gave a talk called 'The experience of care', which I recommend you watch on YouTube.

He wrote this blog post in October after the first wave. The point here is our capabilities in user-centred design and agile delivery were crucial in a time of crisis. Hand on heart, I can say we were as ready as we were ever likely to be, and I could say without a shadow of a doubt that without that work we would not have been so. I'm just going to now talk you through some of the numbers to give you a sense of what that meant. Again, pretty macro.

So as I mentioned before, 111 online launched in December 2017. After its launch, it took about 18 months to reach the 1 million session milestone. So a session is once somebody completes a journey from starting the service to reaching an outcome. In early March 2020 111 online launched a dedicated service to provide advice on coronavirus initially with very limited clinical knowledge of the virus. The focus of the advice was on travel from countries where coronavirus was emerging. That part of the service alone reached one million sessions in a matter of days. In fact, the biggest single day of usage for 111 online was something like 95 times the average daily usage for the whole lifetime of the service. The NHS website remained the official source of NHS advice on the coronavirus for the public. During the first year of the pandemic it received over 40 per cent in increasing usage compared to the previous year. Content was being continuously updated, especially in the early days of pandemic. Often as a much a response to government policy changes as to changes in our understanding of the virus. Teams worked closely with colleagues in government to develop whole new services such as the isolation note, a rapid collaboration with DWP which was announced in the budget and live within a fortnight.

So that's a whole new service for an entirely new policy research designed, built, live in two weeks. Particularly for those in key worker roles, the isolation note maintained their entitlement to statutory stick pay in the event of having to self-isolate with COVID. So these were important services in response to the crisis. In terms of social media, that was also a critical channel for getting trustworthy information and advice about coronavirus out to the public. We saw about a tenfold increase in our visibility on social media channels during the first year of the pandemic and received millions of hits to trusted NHS advice, like that video given by Nam who was the clinical lead on the NHS website.

The NHS app also continued to be enhanced throughout the pandemic, supporting GP practices to offer online consultations, enabling practices to triage patients without in-person visits, which is obviously really important. In the early days of pandemic by May 2020, over 2200 practices, about a third of the practices in the country had made this feature available. And then during the pandemic NHS app also added features for secure messaging that practices could also choose to adopt. And then from its launch in May 2021 as some of you may, know the COVID pass resulted in about 18 million people downloading the NHS app. Now that might seem like a slightly artificial need but now every one of those people has access to the other services that the app offers.
Perhaps unsurprisingly, once vaccines came into play, we were also helping people to find and look at vaccinations online, working in parallel with a range of local booking services. I counted this yesterday. Over 74 million vaccinations bookings handled through the national service alone. And then there was the COVID-19 risk assessments. So this was a project I was involved in that went through late 2020 and early 2021. It was an Oxford-led research group that analysed data on mortality and hospitalisation from the first wave of the pandemic, and then used that to develop a model called QCOVID. QCOVID was used then for vaccinations, to identify people who might be at higher risk of serious illness from a combination of factors. So there were lists of kinds of clinical conditions that people were added to the shielded patient list based on, but this helped us kind of differentiate people who might have multiple factors that were combined to make an overall higher risk.

And this was a combination that involved technical expertise from NHSD, alongside Oxford and Cambridge researchers and DHSC colleagues, who were working as one team across policy analysis and implementation. And i think it was a ground-breaking collaboration that I'm very proud to have been part of. So that brings us pretty briskly up to the today, and it's the end of the historical portion of this talk. The rest of the talk is going to be focused on the future, and there are big changes afoot both at local levels of the system and in the centre. And they're set to drive the priorities of the NHS for the next few years and bring digital much much closer into those priorities. The four major themes that I think will set the direction for digital in the NHS.

All of them are big topics in themselves so I'm only going to cover each one in brief. First of all, and I think rightly so, there are the current pressures on the NHS as a system. So as you've undoubtedly seen or probably heard in the last few months and years pressures across NHS services throughout the pandemic have been and continue to be intense. The extent of those pressures on a workforce already stretched by the pandemic is having impacts, most visibly on waiting times as these graphs show. Of course, these data reflect millions of individual instances when someone is in need of care, as well as the best efforts of professionals trying their best to help everyone under intense and often unrelenting pressure.

As someone who doesn't work on the front line day-to-day, it's difficult for me to know what more to say that that you've not already heard. However, it's also really important to acknowledge that these are incredibly hard times for the NHS, and doing whatever we can to ease the pressures on frontline care and support is something that is at the front of everyone's minds at the moment. One of the things that the current pressures are highlighting is the fundamental interventions interdependencies between healthcare services, and the relative ease with which pressures in one area can have knock-on impacts in others. So when one sees reports of ambulances queuing outside A&Es, there are chains of dependency that might stem from challenges discharging patients into social care, just to give you one example. What this means is that solutions that focus solely on the areas where the pressures are most visible are unlikely by themselves to lead to a long-term recovery and stability.

It's recognized that the solutions here need to be more holistic than those of the past to take account not only of immediate pressures, but to redesign whole chains of services and pathways of care, to take account of the bigger picture. And as I mentioned later, here is where it's hoped and expected that digital can play a significant role. One of the ways in which the system is currently reshaping is to see to see the bigger picture, whether it's through the introduction of integrated care systems on top of the immediate pressures and impacts of coronavirus, the NHS as a system is reorganising itself to address some of the major challenges for the future of health care delivery in this country.
The overall delivery model for the system at the moment is similar to the one it was established with, more oriented around the episodic treatment of illness than the prevention of illness. However, many of us are also living longer today than we did in the past, which is of course a great thing, but also means the system needs the plan to support more people to live healthy lives for longer in sustainable ways tied to that, or also the fact that more people are living with longer term conditions that require ongoing care.
And finally, there is a system wide recognition of the need to understand and do more to tackle health inequalities by understanding and addressing the wider social and economic determinants of health. So for the last few years, informally and with statutory power from the 1st of July, planning and delivery of local health services everywhere will be moving to being led by things called integrated care systems.
So previously, the responsible for commissioning health services in your area was held by clinical commissioning groups, essentially groups of GPs who were allocating health care spend and determining where the money went. By contrast, ICSs are much broader coalitions of NHS providers, working in partnership with local authorities, voluntary and charity organisations to deliver care at local levels. And ICSs will operate at different levels, which I've highlighted here. They'll operate at the level of neighbourhoods, which are kind of a few tens of thousands. Places, which is a few hundreds of thousands, and then systems which are a few million. I can recommend, if you're interested in this, going to the King's Fund recently refreshed explainers or the NHS kind of official guidance on integrated care systems. So the intent of changing the way local health care services are planned and commissions are set out by these goals, improving outcomes in population health and health care, tackling inequalities and outcomes, experience and access, enhancing productivity and value for money, and helping the NHS to support broader social and economic development.
So the hope is that by bringing together a broader range of partners across different levels of a system, we'll have ultimately a more holistic and joined up approach, and more effective care that moves the needle in all of these areas.
However, with these new arrangements come some challenges, one of them being the diversity and differences between regions. The graph here shows all 42 ICSs, with the proportion of neighbourhoods within them ranked against a five-point index of deprivation, represented by the different colours. And as you can see, the ones at the top look very different to the ones at the bottom.
And this is just one very high-level indicator. Obviously, regional variation is nothing new in the NHS. However, as new coalitions of providers come together across health and care, one of the major challenges for organisations at the centre of the NHS will be in how best to support that diversity of approaches that is going to naturally emerge. So in terms of what that means for digital, at the level of local health care, there are already moves afoot to ensure ICSs develop digital services and capabilities in a coherent, cohesive way.
There are a couple of frameworks and forms of guidance published last year. What good looks like, who pays for what? And these are guidance frameworks for leaders in local health about what to do around digital. What good looks like sets out a common vision what good digital practice looks like, and provides a system wide benchmark for good digital practice at local level, including seven such measures which are in the diagram with guidance on each meeting, each one and what that means.

There'll also be maturity assessments to help identify specific actions to improve against these measures. And alongside this is the again, appropriately named who pays for what, which identifies issues with commissioning and with funding from consultation with local health leaders. And importantly and clarifies what elements the centre will fund and what would we be expected to fund at local level, a form of clarity that fundamentally enables more coherent longer term investments in digital services.
Frankly, this is the boring stuff that can make a massive, massive difference in practice at scale. And speaking of the centre, our next theme and one of the major things going on in our world at the moment is the Wade-Gery Review. So this is Laura Wade-Gery, she was appointed chair of the NHS Digital Board in July of 2020.
Her previous experience included 20 years working in the digital arms of Tesco and the Marks and Spencer group. In 2020 the Cecretary of State for Health asked her to carry out an independent review into accountabilities for Digital Transformation at the centre of the NHS, with the aim of making recommendations to ensure a more coherent system-wide approach.
The review was published in November of last year and has since prompted significant organisational change, the biggest of which is that we, alongside our colleagues in the former NHS X and in Health Education England, who are responsible for a lot of the staff training in the NHS, are being merged into a new transformation directorate within NHS England. Institutional mergers of this scale are fraught with many different kinds of risk, and can be anxiety inducing for the people at the heart of them because of the uncertainty that they create.
But the intent behind these changes is really clear in the review, and as a digital practitioner in the NHS, they're goals that I can get fully behind. So the review included nine headline made recommendations, I picked out my three favourites. Front and centre, commit to a patient and citizen-centred organising principle for future service transformation. So this promotes everything you might expect in terms of the best practices and user-centred service design. And the Wade-Gery Review explicitly calls this out as an organising principle for future service transformation.
So it puts the onus on all of us working together to create the organisational conditions for this to be achieved. Now, this is big news for us because it gives us the commitment at the highest levels that we can point to when people argue with us. There's also implementing a new operating model across NHS England to drive digital and data transformation. Words "operating model" don't tend to fill people with excitement, but ultimately, this is the recognition of the kinds of capability that we need to aspire to.The goal of citizen-centred service design to quote the intent, is to transform the way the NHS transforms. Like the first recommendation that gives us a massive boost to people working in digital in the NHS.
It gives us the kind of motivation to change how we organise. And we're seeing that commitment echoed, backed up by NHS leadership at the highest levels. And finally, there's reorienting the focus of the centre to make digital integral to transforming care. Now, this maybe is a little less obvious from the description, but it's a commitment that takes us from being peripheral and peripheral in conversations, to being at the very heart of them so that we can use our understanding and expertise and skills. It also encompasses being clearer about the roles of the centre versus the local NHS in delivery, some of which I covered before. And finally, and probably not least controversially, there's the subject of big data in the NHS. It's probably obvious to say that data is a the central part of effective health care.
It's essential for health care professionals who treat us day to day to have access to accurate up to date information like those in our health records. And when they use this to treat us, it's often referred to as direct care. Provided certain conditions are fulfilled, health care professionals can generally rely on your implied consent to share information for each other for the express purposes of your direct care.
So you wouldn't want health care professionals not to be able to share your test results, for example. However, there are other important cases for the use of health care data, beyond direct care that can potentially support the improvement of the NHS at all levels. So people who plan and manage health care services or population health or population level health, they can benefit from understanding more specific health impacts in the aggregate.
Whether this is to understand the impacts of particular health care interventions or the wider social and economic and environmental factors that impact our health at collective and individual levels. It also includes things like health inequalities. And for researchers both in and beyond the NHS a more granular level of data that can help improve in analysing the root causes of prevailing health concerns, and in developing new and improved treatments and interventions However, in the end, it is of course, our sensitive personal data.
That means we as individuals must be able to both understand and consent to its uses, particularly for any purposes beyond direct care. There has been a somewhat checkered history here, most famously in recent history. The Care dot Data Initiative, which was first announced in 2013, and then finally closed following public outcry in 2016. The ultimate aim of Car dot Data was to enable the purposes of just mentioned and as people tend to see their GP more frequently than they visit hospital, the primary care dataset is richer and as a consequence has vast potential to support improvements in health care planning and research.
However, at that time the program was poorly communicated both to health care professionals and the public before its rollout was attempted. And by failing to do this in a way that recognised people's natural concerns, the program ended up heightening people's anxieties, rather than providing reassurance. Last year in 2021, similar concerns were raised in relation to GPDPR, not to be confused with GDPR. GPDPR stands for the General Practice Data for Research and Planning, which again aimed to fulfil the same overall objectives to support research and planning. And again, there was somewhat of a public outcry last year when we plan to implement this.
But this time around, I'm really glad to say that we've committed not to progress until key professional bodies are fully satisfied and that awareness campaigns have made the public aware of what they can do. So there will be opt outs. Everybody will have control, and that will be fully, publicly communicated. So I'm glad things are moving in that direction.
I think there are also other reasons to be more reassured around this in terms of the strategic level. So this is Ben Goldacre. Hands up if you recognize Ben Goldacre. Only a handful. So he wrote the popular books, Bad Science and Bad Pharma. He's a friend to all friends of empiricism. He runs the data lab at the University of Oxford. And at the start of the pandemic, NHS England commissioned a group of partners, including his team, NHS X and providers of the record systems TPP and Emis, who together cover about 98% of the systems market and brought them together in a collaboration to provide safe, trusted access to primary care records, anonymised for the purposes of analysis and research. And the result of the collaboration has been the set of systems called Open Safely. And they are a trusted research environment. And as the name suggests, that allows both safe and open access to analyse data on primary care.
Open Safely is safe because its unique data management pipeline allows research to run queries within the system provider's data systems and sales, meaning data can be safely analysed without being transported or even accessed by the people analysing it. So that you just get the results of their queries. Open safely is open because all the code run on those datasets is published by default, once a query result has been obtained. This enables greater transparency, auditability, shareability of the analysis code, which is something that is an overall benefit for the research community but isn't necessarily done by default. So the problems that Open Safely solves for, provide at once a huge gain in utility for the medical research community, whilst also adopting a privacy-first approach that health care professionals and privacy advocates can get behind.
My mind is frankly blown by what has been achieved. Ticks all the boxes. Access, security, transparency, traceability. And meet everyone's needs because that was the intent from the outset. They didn't say we need to do this but x we'll get in our way, they said, here is everyone's needs, we need to solve for all of them.
And it happened by bringing the right partners together in collaboration with the right motivations and supporting environment. Goldacre subsequently asked to conduct an independent review into the safe and efficient use of health data for research, and analysis of the benefits for patients and the wider healthcare sector. Whilst that review was underway, the government also published a draft version of its strategy, and the Goldacre review was then published in April of this year and then followed up by the full publication of the Data Saves Life Strategy, which has happened in just the last couple of weeks.
If you'd like a more condensed summary of all that detail and you're into kind of data stuff, I can definitely recommend the tweets of Jess Morley. She's a policy lead at the Oxford Bennett Institute for Applied Data Science, and a former advisor to NHS X. Jess's mega threads on this subject are actually a public service in themselves. Boils down a lot of complexity and gives you kind of the facts that you need.
And I think this amounts to a really positive step change in approach. But the main lesson I take from open safely is that by bringing together the right partners in collaboration, and crucially by giving them the right support, focus and commitment, we can really foster ground-breaking innovations that solve everyone's needs rather than limiting our aspirations by what we consider to be constraints.
What I find most encouraging about the new data Saves Lives strategy is it's both bold and explicit about its vision, and it frames that vision in terms of the evidence-based needs of people. So it breaks down each one of the points into a really, really clear breakdown of the user needs, that it's solving so that anyone can understand.
So that was a lot I appreciate in a relatively short space of time. I'm going to finish with a few reflections on how I think we should be approaching the challenges ahead. If I didn't already believe this before the pandemic, I definitely believe it now. Whether you're talking about all the different disciplines and perspectives it takes to truly understand someone's health needs and the associated causes and circumstances, or all the different forms of expertise and skill it takes to deliver high quality digital services that are accessible and available for everyone.
It takes everyone to make for everyone. It takes an environment fundamentally capable of including anyone it needs to in the conversation to make the best decisions about how services are designed in order to meet people's needs. Now, that obviously has to include the people who use and are impacted by the services. That's not optional in any way. And I hope you can see through some of what I've talked about how that's animating things at a system scale in order to make the NHS fit for the future.
Next, synthesis is a vital skill set. Health care has already always been interdisciplinary. The NHS has for decades been home to a diversity of skills and professions, all with their own ways of seeing and thinking about things. And they don't always agree, trust me. But it takes particular forms of work to bring those perspectives together productively and purposefully.
As a product manager, I think that's what we do at the level of particular digital products and services. However, I think those principles really generally do apply to any collaborative form of human endeavour. With the emergence of ICSs, and particularly what we're hearing more and more about the need for integrative leadership. So that's leaders who can bring together diverse groups, create the environment to find and pursue their goals.
This doesn't necessarily require people with specific roles. I think anyone can aim to lead in an intuitive way. And many people already do this quite naturally, but it does require a particular intent and set of skills. And one of those skills, perhaps most importantly, is to create the space for healthy conversations. Many of the problems in health care delivery are either very complex or highly complicated.
And diversity brings with it strength, but it also brings ample potential for difference and conflict. So creating the space to have healthy conversations about difficult problems is something we're going to need to do more of more of the time. And I can already see the need for this with ICSs. I can see the need for them with the merger.
And I hope it's something we'll all learn to do better together. So that's me for now. Thank you very much for listening.