The public want evidence that charities are what they say they are … they want charities to be guided by their ethos and purpose in everything they do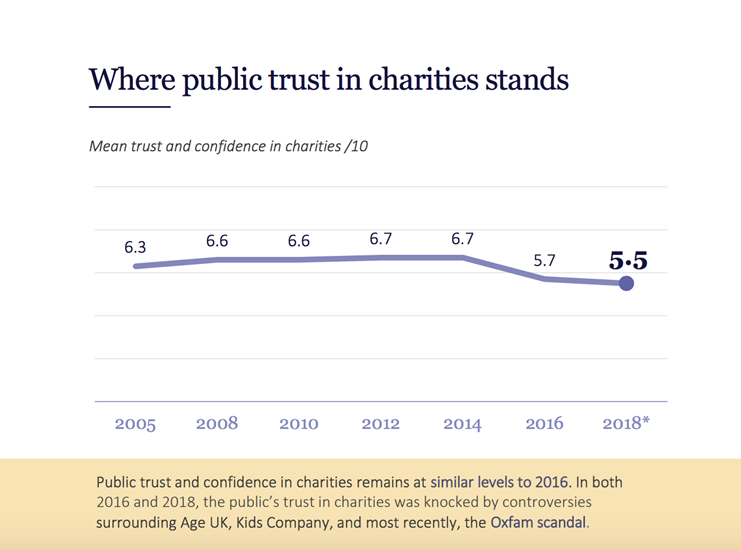 The public want to be able to quickly and easily see that charities are what they say they are so that they can make a choice in the moment. Should I access support from this charity or not? Should I make a donation, or not? Baroness Stowell calls for charities to be more 'authentically charitable' - but what does that mean? And how does it translate into changes that charities can make, here and now?
The Charity Commission's research report has many recommendations, including looking at changing behaviour and culture in charities. But these are big areas to tackle, and it can be difficult to know where to start. As a first step, rebuilding trust starts with better communication, which is founded on clarity.
The Charity Commission recently revealed research that public trust in charities has plateaued since 2016 and remains low, at 5.5 out of 10:
"The public now trust charities less than they trust the average person in the street" (Gov.uk).
Individuals who do trust charities are far more likely to have recently made repeat donations (24%) to a charity than individuals who do not (11%)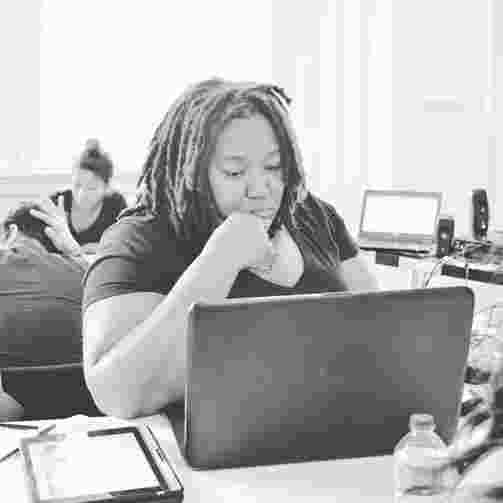 Charities also have people who benefit from their services – their "Who" – people who experience mental health problems, people living with cancer; parents of newborn babies who are born needing specialist care. Many charities also support concerned friends, colleagues and family members as well as professionals working in their specific area.
Charities seek to achieve their purpose through their activities (their "What"). These often include face-to-face and telephone services, and their online presence too.
A charity's online presence is a key piece of the puzzle of service provision for the people who benefit. For people in a challenging situation, the internet is often their first port of call for information and advice. A lot of charities' work is about giving these individuals a good experience in a bad situation: these are individual parents, children, siblings who are in a moment of high stress or despair, and they need support and advice that they can understand and execute quickly. We can help them in this moment of stress by designing for trust and understanding, and potentially giving them a life changing experience.
61% of people who give cite personal, life changing experiences that sparked their giving
(Charities Aid Foundation - Why do people give to charity).
Four principles to help you to design for trust and understanding
Start by having clear, succinct descriptions of your charity's mission and the people your charity seeks to help. Make sure you have these to hand and then dive into these four principles.
1) Make content easy to find
Use visual hierarchy to make sure that core content is clear
Constrain choices and actions so that people aren't overwhelmed by too many options
In search results, make it easier for people to make a choice by using groupings to simplify how the results are presented
Use popular or more common search terms because individuals might not have all the knowledge yet – they might search for the wrong term, and they may not use technical or medical language
Use those popular or common search terms to tag different relevant pieces of information
In navigation, give people quick routes to the information they need, and minimise the number of steps needed to complete an action so that people can achieve their goals quickly and easily
2) Make content easy to understand
Try to use the language that people use themselves to describe their situation or challenge
Make design choices in the typography and use of colour that make your content more legible, easier to digest and scan quickly
Be consistent in how content is produced – define your tone of voice - and how it is presented
Be accessible and inclusive - Most charities aim to work with 'the public,' which includes people who may have access needs. By meeting the needs of people with disabilities and the full neurodiversity* of the general population in their online presence, charities can "make a bigger impact on the lives of their beneficiaries, and in their communities and for society as a whole." (Baroness Stowell, again)
*Neurodiversity is the diversity of human brains and minds, the infinite variation in neurocognitive functioning within our species (Autism UK).
3) Make content personal
Make it quick and easy to tailor the list of optional services available to an individual, depending on their location. There's nothing worse than finding a service that sounds like just what you need right now... only to discover that the nearest place to access that service is 300 miles away, or you're not eligible
Take time to really understand the people who get help from your charity website and their preferences – do they prefer to interact over one channel, or multiple channels? Are personal stories or facts valued more? Do they want to access information anonymously or do they want to log in so that they can save articles to come back to later?
4) Make content real
Use quotes from people who have been in the same situation as the people you are trying to support – for example, the parent of a newborn in intensive care; the spouse of someone who has just received a diagnosis of cancer
Use imagery carefully. We've all seen those pictures: People with mental health problems holding their heads in their hands; children with grubby faces depicted as victims of abuse; children with distended stomachs depicted as victims of famine. These all might help charities to raise money, but they can work against the charities' own mission to raise awareness and reduce stigma
Reversing the decline in trust
As Baroness Stowell puts it, if we "ensure everything charities do is driven by their purpose, we can reverse the decline in trust. And more important than that: charities will improve as organisations, and as a result make a bigger impact on the lives of their beneficiaries, and in their communities and for society as a whole." Ambitious stuff. Let's start with ensuring our online presence is driven by our charity's purpose.
Get in touch if you'd like help with implementing these principles. We'll be continuing this series with more tips on building trust in online presence for charities, designing for a mix of online and offline touchpoints, and designing for activism. If there is a topic you would like to hear from us on, I'd love to hear from you. You can email me: lou.shackleton@nexergroup.com.
***
This article builds on the Digital Arts article from Dec 2017 in which our Senior UX Architect Francis Rowland discusses our recent work for Mind, the mental health charity. You can also read more about that in our Mind case study.
Contains public sector information licensed under the Open Government Licence v3.0.