How housing organisations can help people during the cost of living crisis


As the cost of living crisis puts a squeeze on people across the UK, we look at how housing associations and other frontline services can take a human-centred approach to supporting people both practically and emotionally.
Just as the COVID-19 Pandemic drastically changed the UK's landscape, the current cost of living crisis we're facing is having a huge impact on people too. With soaring energy and food prices and winter approaching, people are in crisis and need humanity in the services they use.
A human-centred approach is required, responding to real user needs as they change with the external environmental forces around them. We need to communicate effectively with people, understanding their state of mind under stress and in crisis. It's also important to understand how people want to interact with us digitally, or if other channels are better in these circumstances. Crisis affects people's ability to take on information, and in the current climate, charities, housing associations and frontline services are under pressure to communicate well and in a timely fashion with their service users.
Our service designers and our technical team's recent work with housing associations has helped us to learn alongside their users and to tailor responses with their needs at the forefront. This has prompted us to think more deeply about how we can share learnings and work in the open, so we can help other organisations tailor their services to users who may also be in crisis.
How people think in times of crisis
How we think, understand and act is impacted when we are under stress. The cost of living crisis may affect people in different ways, from having to change their habits and cut down on nice-to-haves to those who are really struggling to pay their bills.
During these times of difficulty, any pre-existing understanding of how people think and act may no longer be accurate. In service delivery, sometimes this makes it harder to respond at speed to support people, so we must identify common themes by listening and then adjusting our approach.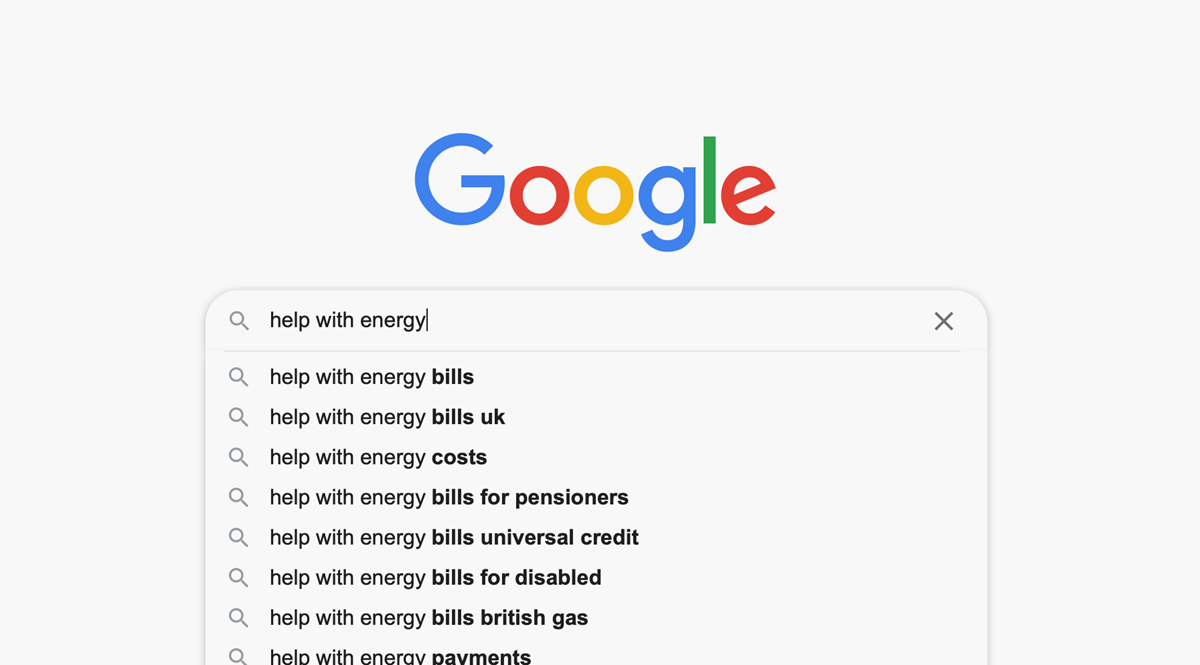 Understanding people's behaviour
As service designers, we need to be aware that the data we have on users may no longer be accurate, and that we must focus on rapid user-needs assessment. This should be in the form of user research and observation of everyday tasks, done sensitively and at pace. We can make changes based on assumptions or existing research, as long as we build in the time to validate and update those assumptions as soon as we can.
One of the most critical pieces of research is language. The cost of living crisis affects many aspects of people's lives and there is unlikely to be a consistent phrase or set of words that people choose to use. It may be harder to piece together from existing research how people will look for information. Tapping into this with new research or by looking at website analytics should help formulate a vocabulary that resonates with users and gets them to the right information more quickly.
Communication and content design
A crisis frame of mind may reduce the ability to find and process information. This means that having a good grasp of how to speak to our customers is essential. Usually this means not using jargon or industry terminology and being clear and concise. Iconography, imagery and colours should also be treated sensitively to communicate well and to strike a balance between the serious situation without furthering alarm or panic around the situation.
Rapid research and analytics should allow us to use up-to-the-minute insight to drive and prioritise the content we create so that it is accurate and time sensitive.
Having the information, however, is not enough. From our experience working in the mental health sector, we know that any lack of clarity will be heightened for those in distress. Simple, clear user journeys are critical to ensure people are supported to find what they are looking for. Content should be written with humanity and empathy to ensure people feel supported and understood.
Channels
Tenants who turn to their housing association for support are often faced with different communications channels. The website is a good place for generic information, especially for those who are comfortable with digital technology. Trust can be built by offering some basic signposting to useful resources that are linked to the current landscape. Organisations don't need to have all the answers, but helping users find trustworthy resources and empowering them to find them is particularly important.
The home page is an opportunity to show people that you understand them and are tuned in to their needs. Keep it up to date, change priorities in line with changing needs and direct users to useful information. Your focus shouldn't end there, however. One pitfall is to assume the journey that a user may take. If there is an urgent situation, ensure there are routes to vital content from any page of the site, and that your search performs well to get to the same endpoint. At Nexer we build sites with the flexibility to adapt and reprioritise content, helping organisations to rapidly adapt layouts to deal with unusual situations.
Chat-bots can be a useful tool to relieve pressure on phonelines and other internal resources. When used correctly, they can be a bit of a secret weapon, and provide some powerful data and insight. They have the ability to provide personalised responses based on the user's situation and the specific language they use.
A word to the wise though, extreme care must be taken, and organisations must be committed to updating content as situations change. One wrong step and trust can be lost quickly if these tools add to existing distress. Understanding what people are asking for and where they are trying to get to is vital, so before configuring responses data must be analysed. This could be previous successful chat history or wrap-up codes from call centre calls, to lessen the steps needed to get people help. During these situations, a human touch and a sense of empathy and understanding is more valuable than ever, so care must be taken to build any automated services with sensitivity.
Phone lines will be a critical channel for those seeking a human voice to support them. We can use automated messaging to direct them to helpful and new content, as long as we make it clear that they are still welcome to speak to the team. Phone agents are sometimes the same agents that run Live Chat services, giving organisations a unique opportunity for those teams to curate content to provide meaningful service loops and involve teams on the front line in defining the service.
At Nexer we strive to ensure all services are accessible and inclusive and this must be a consideration when working at speed to ensure we don't exclude anyone from accessing help.
Learning as we go
Breaking down the main steps of our response to a critical situation, including the technological and human steps in our processes, can allow us to use the approach again, knowing that we are starting from a tried and tested flow. This means that we can apply the same learnings to a future situation even if the cause of that situation (Covid19, cost of living or environmental crisis for example) is different. As an organisation, building up a set of service patterns like this allows us to agree on a set of steps, processes and designs that we know work well in a given situation.
Summary
The cost of living crisis will make it harder for some to afford heating, bills, rent and food for their families, but the psychological impact is equally compromising. At these times of difficulty, a human response can make an enormous difference to someone's experience.
We won't get it right every time, but being open to learning, sharing and adapting will put us in the best position to support people going through these experiences. We work in the open, and as we develop patterns we're always keen to receive feedback and learn from others, especially as crisis situations develop.