Accessibility training with the Auto Trader team
Last week, we had the pleasure of hitting the road again, visiting our friends at Auto Trader to deliver some hands-on training to their development, quality assurance and design teams.
Auto Trader is currently on a mission to create the first fully accessible end-to-end customer transaction journey, and as such, wanted us to deliver some training to their teams so that accessibility and inclusive design practices are embedded at each stage of the project.
Auto Trader welcomed us with open arms and were super lovely and respectful. There was a really energised feeling amongst the attendees, which made us feel immediately at ease. That's really important because approaching topics around inclusion and accessibility can sometimes be sensitive and hard-hitting.
Over two days, we delivered four sessions. It was delightful to run these sessions in person again after the pandemic. Engagement is so crucial to valuable training. Especially when working with often complex technology or processes, as it can be daunting to complete the necessary activities remotely.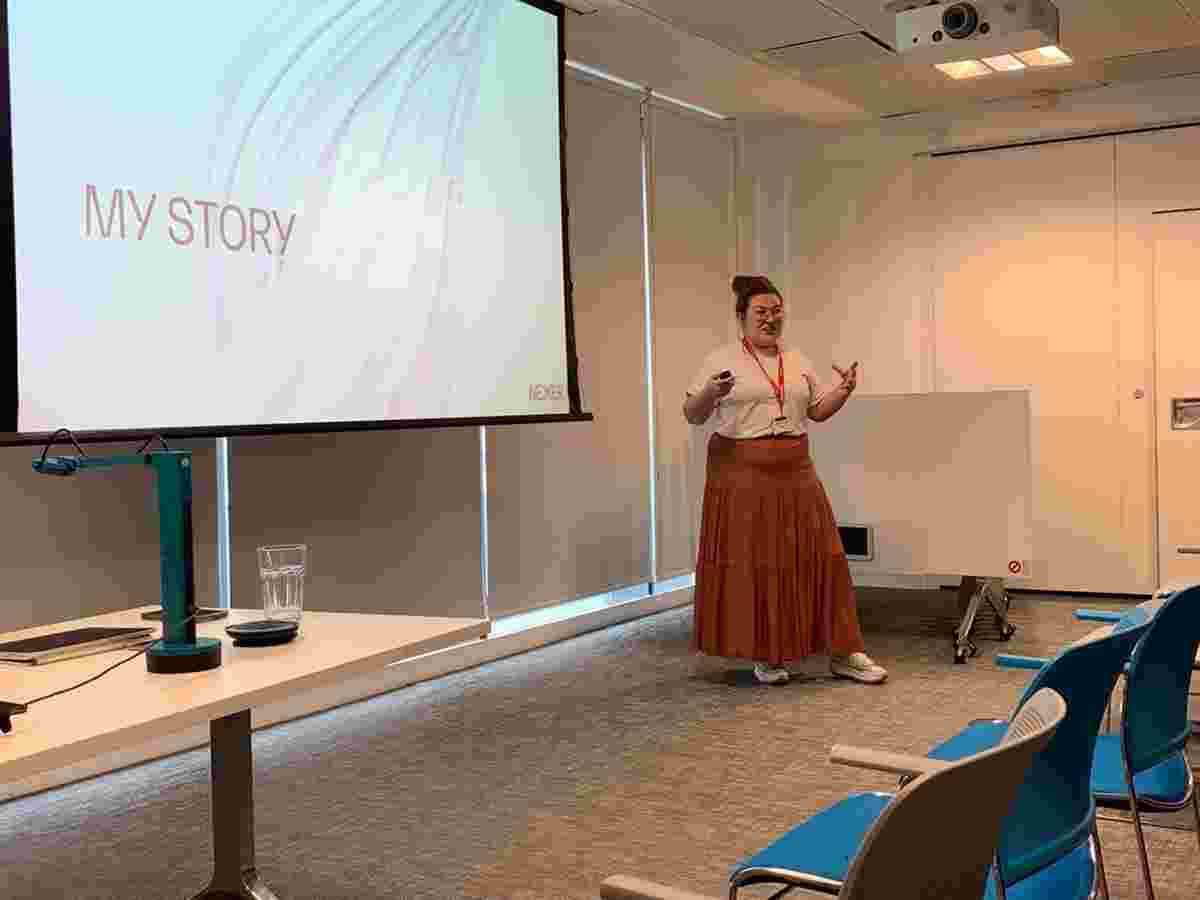 We started both days by hearing from Molly, who spoke about her story and experiences. Molly explained how truly accessible services have enabled and empowered her as someone who is Deafblind. She also shared some personal encounters with exclusion, what happens when accessibility is overlooked, and the real impact this has on many people. We wanted to recognise and explore the experiences of those people (statistically 1 in 5), who may not be able to access a service or product, and what that inaccessibility means to them.
Molly's session was about raising awareness. It's rare that exclusion is done with intent, so Molly wanted to empower teams and show them how they can make a big difference in their everyday practices while broadening perceptions and understanding along the way.
The team also explored the world of assistive tech in a hands-on session which included demonstrations of screen readers, magnifiers and colour filters and NVDA.
We'd brought along our empathy toolkit of experiential, immersive devices, simulation glasses and gloves. This kit gives the team an insight into the experiences of people with visual and physical impairments. We love bringing these tools along because it allows people to recognise and empathise with the challenges that many people face, and can help foster a more inclusive outlook, encouraging people to think about how they're creating something and why. It's important to note though that these empathy tools NEVER replace or give a deep understanding of how people live, and all the barriers that persist in society, but they do allow people to explore interactions unfamiliar to them, and understand how people set up and configure their devices to cope. We'd always encourage research, design, development and test team to involve disabled people in their work, ideally by employing a diverse team.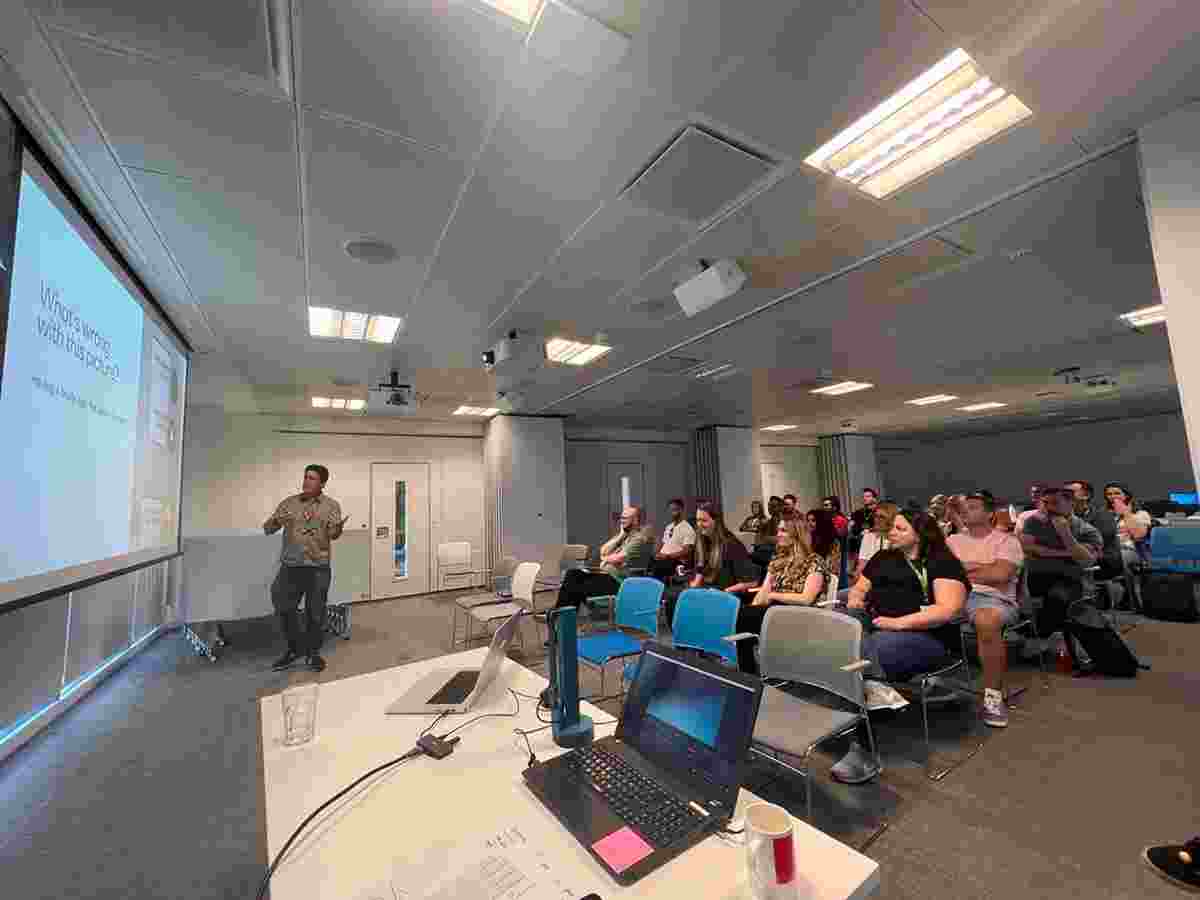 Chris' session focused on best practices for accessible and inclusive design, and why concentrating on WCAG guidance doesn't always lead to good experiences for users. Of course, WCAG guidance is essential and should be celebrated, but it just scratches the surface. Accessibility and inclusive design need to be baked into everyday considerations, from clear visual hierarchy to thinking about the different screens and devices that will be surfacing the content.
The image above shows a button that requires users to have some useful sight to distinguish whether the button is lit or not. There is braille versions of the signage itself, but if you have to use braille you're unlikely to have any useful sight, meaning you may not be able to see the lit or unlit button. So from a compliance perspective, it looks good saying 'All of our signs are in braille' however when applied in practice, the end result is inaccessible.  
In essence, mindfully designing for extremes will be helpful to everyone, not just those with access needs.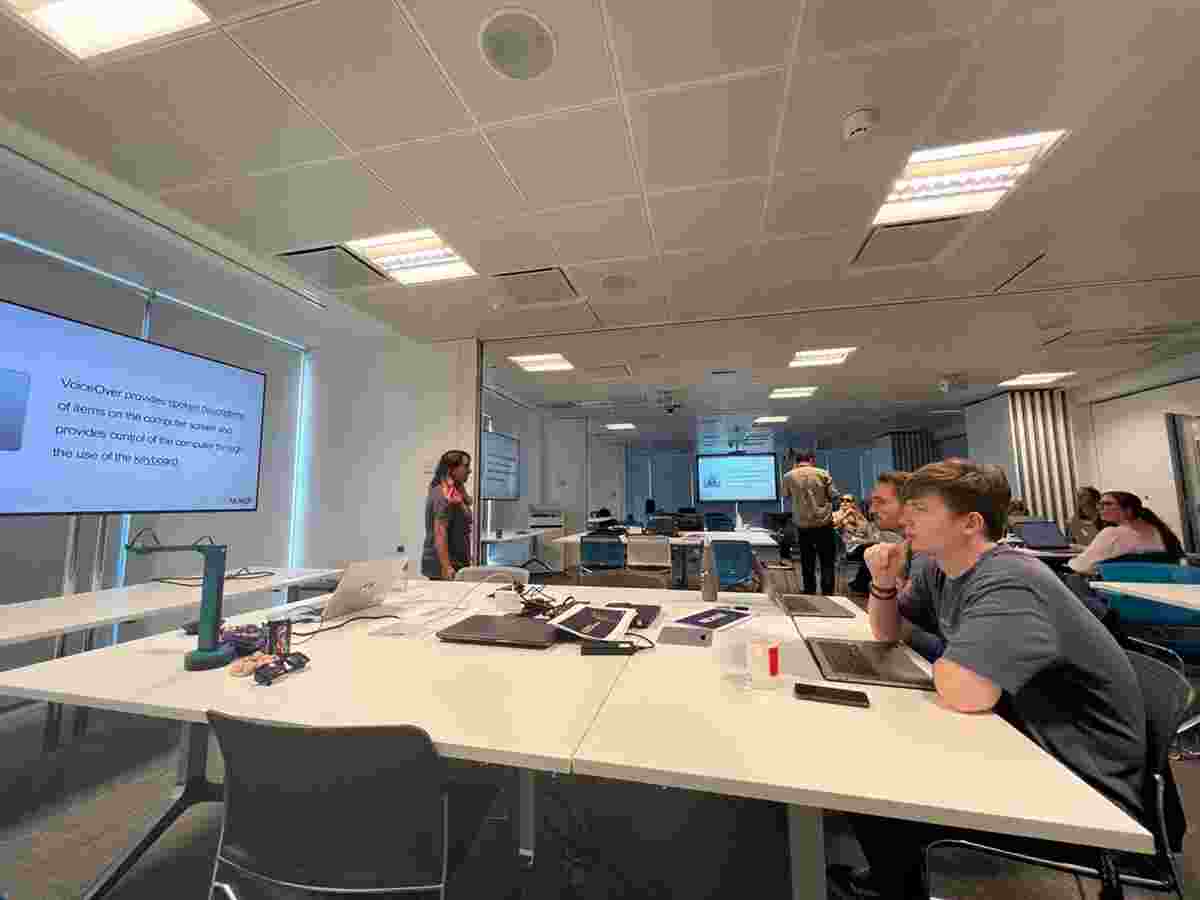 Claudia led an exercise demonstrating Voice Over features. This was Claudia's first time joining the accessibility team at Nexer, and she did an excellent job of putting her in-person training skills into practice again. Claudia has a background in helping people with visual impairments to use technology and has spent a lot of time observing first-hand and understanding how people struggle to use digital products and services.
Claudia led an exercise which demonstrated VoiceOver (VO) features on different devices. She asked everyone to choose a page or journey that was part of their current work and to try to navigate using only VO. This was a very interactive session, which showed how a user's experience can be entirely transformed if using assistive technologies such as using VoiceOver to navigate. This exercise allowed them to identify areas of improvement and gave them the tools to test any new work.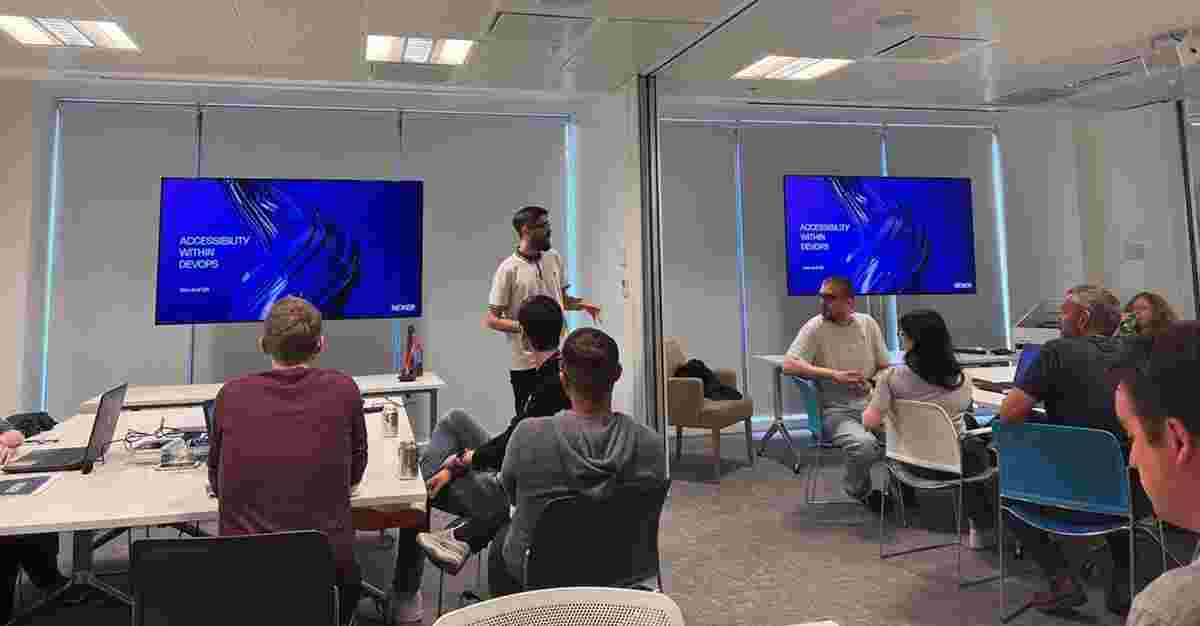 It was so great to be back delivering training sessions in person, they're always so interactive and we get the opportunity to make connections with new people, offer help on live projects and make a lasting impact. We've had some heart-warming follow-ups from attendees, both on the day and remotely, to share their own experiences and affirm how valuable the sessions have been.
Danny's session focussed on Accessibility for DevOps, which covered:
Good practice for accessibility
Reviewing for accessibility
Embedding accessibility
Compliance, legislation and frameworks
This session was tailored to developers and testers and made it familiar to them by identifying their code and using processes within their existing DevOps pipelines.
Danny explored the experiences of these teams, and how accessibility can be implemented much sooner in their current process between the development and QA teams. For example, exploring the process behind Alt text. Auto Trader relies on retailers and sellers for all the information relating to the car, including media. This presented an opportunity to work with the team to rethink this process and make it both easier and mandatory for this information to be completed, resulting in some meaningful backlog items being created and dropped into upcoming sprints.
It was a pleasure to have the team from Nexer come to the Auto Trader Campus. We are on a journey here at Auto Trader to make all our products accessible to all, and we're determined that no one should be excluded from our services. This was a great opportunity to get some hands on training and improve awareness of barriers that can arise from not having accessible products. Molly, Danny, Claudia and Chris were great in building empathy across our teams, showing great real-world examples of how we can apply good accessibility practices to our products. We are already looking forward to having more sessions and building on our relationship with Nexer.