Patient-centred design – Whose experience is it anyway?


A reflection on user experience, co-design and patient-centricity and how compliance might be getting in the way
Earlier last year, we ran an event called, "Coupling Compliance with User Experience". Although the speakers were great and audience discussion valuable, the turnout for the event was low. You could blame our poor marketing as I was advised the title of the event was wrong. It was put to me that people interested in compliance and regulatory affairs don't really care about UX, which they see as a "design discipline". Conversely, it was suggested that the UX crowd may feel a little put off or held back when forced to consider regulatory blockers to creativity and innovation. I'm paraphrasing slightly to emphasise these apparently jarring views; the feeling that great usability and scientific validity are somehow mutually exclusive, can't co-exist, don't like each other…
There is evidence to suggest some truth behind the problem of poor UX in health and life sciences tech of course. We have worked with pharma clients whose users have pretty low expectations when it comes to system usability, feeling it's not compatible with their industry, where iterative, agile design approaches don't sit well with the need to document, prove or "lock things down".
Things are clearly changing, particularly in the more 'fleet of foot' pharma spin-offs and start-ups. We recently took part in a Digital Health Hackathon organised by Cancer Research UK and AstraZeneca to look at digital solutions for problems posed by patients themselves at the NCRI conference. The event was a truly rewarding experience, resulting in some amazing patient engagement concepts triggered by direct input from people with cancer who are taking part in clinical trials. Putting the patients at the heart of service and product design is a no-brainer as they are the ultimate subject matter experts but it doesn't seem to be happening enough, whether that's down to the scale of the challenge, the commissioning model, complexity of any implementation project etc.
It's fair to assume these feelings have also permeated IT at the point of healthcare delivery, where product origins were tied to GAMP manufacturing processes and compliance directives, meaning when they reach the ward, the clinic (or in the case of Telecare, the home), they lack user-centred design. We've all experienced or heard anecdotes from friends and family working in the sector about how poor the IT systems are, how nurses have to develop paper-based workarounds, how hard it is to choose and book appointments. 
So what's changing?
Are we seeing the patients starting to seize control? Is the start-up community parking regulatory reservations to deliver great solutions that offer users enough for the whole quantified-self phenomenon to drive real change? Are patients increasingly involved in the design? I work for a UX company and you think we'd get this right (we try) but we were recently floored following an interview with an oncology clinical trial patient, when discussing design ideas for a new patient support app. Prior to the user interview, we had assumed simplicity would be key to the UI design, to encourage uptake. It was obvious that the user concerned was hugely invested in the subject matter (understandably....) so they wanted rich data, the opportunity to mine research, to share ideas, to collaborate.
Are the digital disruptors we keep reading about going to lead us to a new era of healthtech or is the environment too complex to expect the same? Who are the digital disruptors?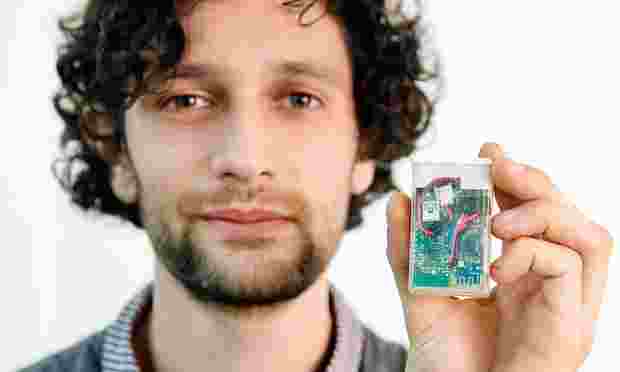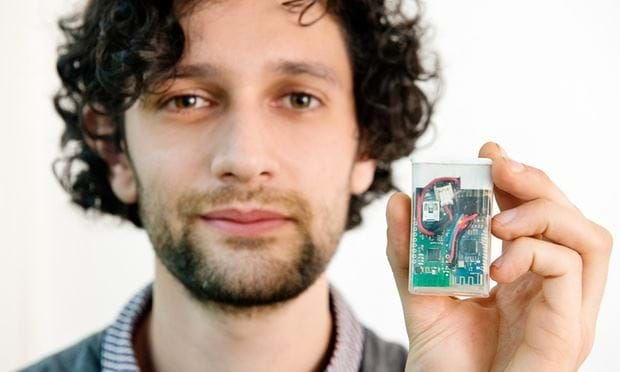 Tim Omer and part of the monitoring kit he built himself – the receiver re-using a Tic Tac box. Photograph: Linda Nylind for the Guardian
"Minicabs, room rentals, and video shops didn't have incumbents strong enough to compete … it's going to be interesting to see what happens when start-ups like these start attacking industries where there are big players that aren't already fatally weak."
We have been debating this in the office, with clients, at meet-ups and on Twitter more recently, as the groundswell of events and discussion around patient experience, user expectations, co-design and citizen hacking can't be ignored. Check out the great conversations around: #makehealth #wearenotwaiting #patientchat
It's exciting, it's very real and although there are obvious challenges around compliance, scaling and sustainability, we can't deny that user frustration, bright minds, open data and tech innovation is leading to some great healthcare products. Take as one example, Tim Omer's inspiring DIY diabetes monitoring kit.
Tim openly states it's for personal use, clearly gets value from it, trusts what it's telling him and has subverted the traditional service model. Provocative or just pragmatic?
"The big gains in the future are likely to involve adaptations of existing technology such as mobile phones to enable the delivery of new forms of care in new ways by new players."
Having started this post with the view that usability and compliance were a little discordant, I actually think this in itself is part of the issue. There seems to be some perennial but perhaps irrelevant tensions between one thing and another, be it BIG IT versus an individual hospital admin process, or a great fitness tracker app that offers great UX but rubbish data, a procurement list with large suppliers but with great ideas coming from SMEs… Even the Guardian article suggests Tim has been forced to sacrifice one for the other, as a decent solution wasn't available in an affordable or timely way from the health service. It's the "good comes from bad" attitude we sometimes see in the sector. I attended a Digital Leaders North West event recently, on the theme of "Creativity and Innovation"; we all concluded that great things often come from adverse circumstances or scarcity of resource. It felt a little sad, the sense that we only innovate because we are forced to, not because we are inherently creative or trying to be the best. Wartime innovation was mentioned to support the view. Cheery.
Putting the patient and service user first
Just like Tim Omer and countless other examples, we are seeing great ideas coming from those with a very personal stake in the solutions. They may not always know what they want but they understand their context, the barriers and can describe the off-days and this is fascinating for UX professionals. Ideally (perhaps Utopian but surely desirable for something as vital as the NHS), there'd be more excitement, collaboration, hackathons, co-design, solid user research and ongoing cooperation to optimise ideas and products for larger scale, sustained delivery. Are we too focused on commercial justifications to adopt the "try>fail early>try again>test>iterate>measure" approach that is common in the field of UX?
The NHS / patient relationship is inherently symbiotic but that isn't always reflected in the way healthcare IT is rolled out, either on the large, full service scale or in the more focused therapeutically-specific application of technology. Patients are coming up with great ideas, we just need a user research and co-design process informed by regulatory knowledge that encourages the R&D.
That's why I'm intrigued to see the output from the recent NHS hack days, crowdsourced developments from the Apple Healthkit community and events such as UKHealthcamp, where GDS-style thinking around UX and service design are being promoted as a way to transform digital health. They'll be fighting, no doubt, against years of apathy, low user expectation and failed IT programmes:
https://www.networks.nhs.uk/editors-blog/initiatives-shortage-poses-threat-to-nhs-survival
"According to the report, supplies of tortuous acronyms, dreadful puns and second-hand slogans are at their lowest level since 1948 and could soon run out altogether. "This could place the future of critical NHS transformation programmes in dire jeopardy, leaving patients literally unaffected," its authors claim."
I get the cynicism (I like the humour) and I feel strongly about the very real concerns for an under-funded NHS but perhaps it's time to start small, focus on true problems, tackle what we can, iterate and measure. It's refreshing to see the UX community, with its roots in human behaviour, pushing a patient-centred, agile approach. Even better when you see that UX community imploring that we design for good – for positive human outcomes – as evidenced by the talks from Alberta Soranza and Sara Wachter-Boettcher at last year's inspiring NUX4 conference.
The rapid growth in the mHealth activity tracker and wearable tech markets, the democratisation and affordability of sensor-technology and the increased use of mobile devices at home, work and play have brought about new approaches to application design. In the life sciences and eHealth sector, this presents new challenges for data integrity and compliance but also new opportunities for application developers, who have traditionally dealt with interfaces, informatics and data visualisation in an enterprise or desktop setting. They now have the chance and need to focus on UX in an increasingly competitive application landscape. I'm not sure if the new attitudes in digital health are revolutionary or evolutionary, whether it's part of a fluid maturation of technology or a massive kick against the old System Integrator-deployed IT platforms. I just know it feels like a great time to be working in digital UX and if ever there was a sector in which the user was paramount in design, Health is surely it.