Homeless Hack - good people, great insight, hard work, positive outcomes


Last weekend, we were lucky enough to take part in a two-day Homeless Hack, an event inspired by a team in London who started the ball rolling a week earlier and which has since triggered events planned for Leeds, Oxford, Birmingham and Cambridge.
Although hard to pull together due to workloads and time, Sigma, Valtech and Manchester Digital responded to London's call to action because we knew the amazing North West digital community would rise to the challenge.
Charities, volunteers, policy experts, councillors, housing specialists, researchers, designers, developers and copywriters pooled their knowledge and talent to grapple with the complex problem of homelessness, proving that hacks are as much about empathy and engagement as they are about building stuff.
Nevertheless, the hack teams did build stuff and that stuff has potential.
The hack was a brilliant opportunity for the organisations already undertaking exceptional work on the ground to work with new audiences with passion, skills and energy. Seeing them come together to create common solutions to a collective issue of our time, is what the GM Mayor's Homelessness Action Network is all about and we look forward to seeing if we can put some of the ideas into practice.
Why Manchester? Why homelessness? Why a hack?
When looking to set this up, it's fair to say that after the initial excitement we realised what a massive and complex problem homelessness is. There was a healthy and understandable degree of cynicism about whether it might actually help and a sense of weariness as it had been tried before.
For those immersed in tackling the causes and outcomes of homelessness, the daily work continues and a few techies getting excited over some data and well-crafted cases studies is unlikely to have a large impact.
We wondered though - when that is combined with digital communities elsewhere, what if momentum builds? What if agencies (who have their own agency) can free up time, skills and people to support the charity sector? What if we are all, collectively, just better informed about what to do, and what not to do to help those sleeping rough?
What if we can connect talented, compassionate people who might not have met before into a network? What if that network takes some of their ideas and new-formed working relationships forward? What if we curate and pass on a growing, vital data set as each event unfolds and what if people fund the outputs?
That perhaps sounds a bit optimistic in the warm glow that follows an event like this, but what is certain is that all those who worked at the Valtech office over the two hack days knew that tech wasn't the only answer and pragmatic about the reality of what 60 people over 36 hours could achieve.
What the Manchester Hack achieved
We all know that digital alone isn't the thing (although some teams did build some bloody great, very promising work that could feed into the Greater Manchester Mayor's Homelessness Fund). Wisely, teams focused on user-centred approaches and human empathy, using existing infrastructure (retail screens or free WiFi captive portals) to change public messaging and promote existing content or charity work.
They drew upon familiar models, such as Airbnb and the fostering approach to look at news ways to connect those in need with those who might just care. Beyond the tech ideas, the main outcome was the engagement with the subject matter, a feeling of heightened awareness and a commitment to help.
As far as hacks go - going into day 1, I really didn't know what to expect. I knew it wasn't likely that an app would solve rough sleeping. By the end of that first day though, it was evident that the regardless of what teams 'made', the outcome is that we have proved that many of us want to make a difference and we want to know how best to do that. Treating a sensitive and complex subject matter with dignity and compassion meant people were always at the centre of the discussion. It also means that we're more aware of what can be done and people are keen to carry on the work.
Each of the project team's ideas are summarised below, so you can see the ways in which they tackled the problem but also summarised are stand out moments from the event itself, which for me were:
Catherine's strapline, which will live on: "Don't give change, create it"
Phil's hacked box and the fact he was last to finish working on Friday and first to arrive on Saturday
Linda's amazing tweets, insights, enthusiasm and bad jokes
Mooch's honesty and willingness to share
PC Dave's openness and engagement
Viv's and Street Support's tireless work and her contribution of subject matter expertise
Kim's thinking and framing across both days
Beth's solid answers on the panel Q&A
Buddies Jamie and Greg, who asked good questions of the teams and were always on hand to help
Shahina's great badges and facilitating (and clumsy Periscope work)
Kev and the Valtech team's hospitality
Jonah, who spent time filming and interviewing people to document the event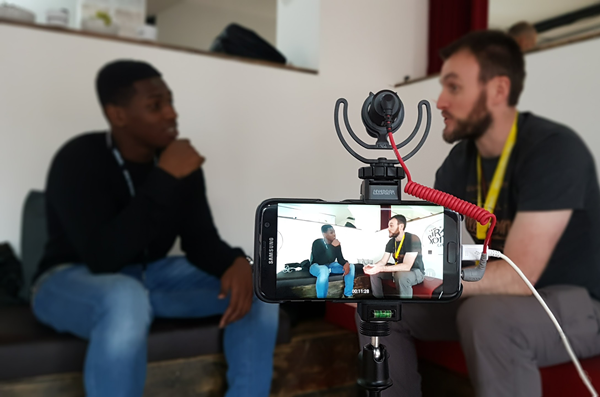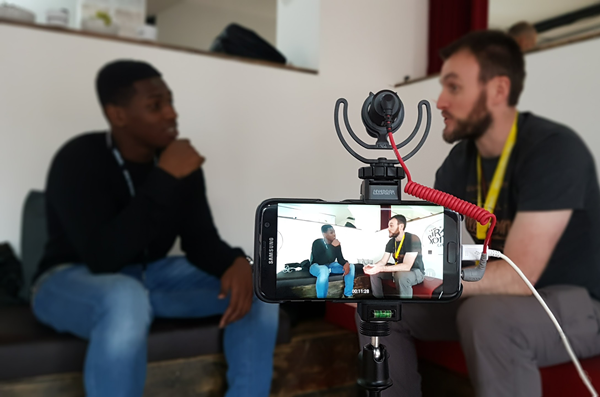 Homeless Hack Team Concepts
Team "Trust" were inspired by PC Dave Fisher's talk. They built a web-based incident reporting tool that allows people to flag concern and a brief description when they see someone in trouble on the streets of Manchester. A great, simple and scalable approach to enabling citizens to help, by targeting messages to relevant support services.
The reported information was easily accessed and visualised too, offering support services the potential respond more effectively. As it is location-based, they also showed great potential for connecting with the CityVerve programme, for example triggering a street light call where multiple incidents are flagged in one location.
Team "Prevent" focused on a risk assessment tool for vulnerable groups. Based on statistics that show certain people and demographic groups will be more likely to face homelessness, they designed a sensitive survey approach that allows individuals and those around them to drill down through a decision-tree, signposting them to relevant support services. Great potential for social media integration as an ethical alternative to targeted ads.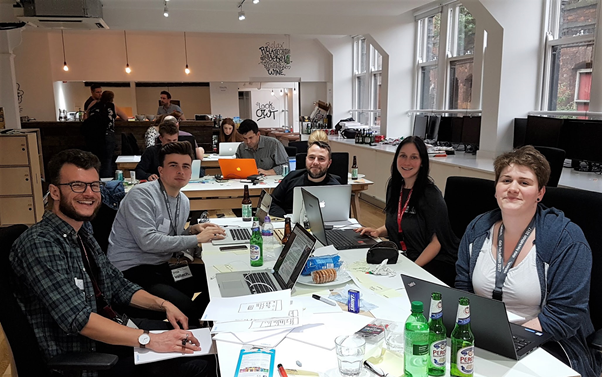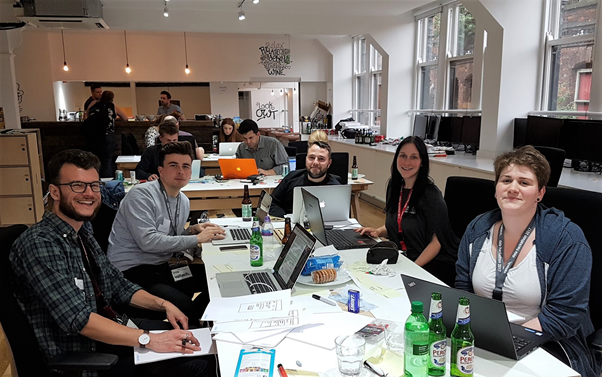 Team "Stop the Spiral" came up with the boldest concept on the day and were awarded the overall accolade of winning team (none of us found it easy to pick a winner by the way!). They challenged the assumption that people wouldn't give short-term support in their own homes by designing a vetting and matching service. Inspired by the foster care and Airbnb models, they came up with a great approach to matching people in need, ideally before they are at risk of becoming homeless, with those who might empathise and show some compassion.
This was aimed at those with less complex needs (e.g. for people leaving relationships or facing financial difficulties, not entrenched rough sleepers). They also challenged the Government to consider this as an alternative to the Bedroom Tax model, where people are incentivised through tax breaks for giving up a spare room.
Team "Win Win" looked at a lottery approach across all charities engaged in preventing or supporting the homelessness challenge. Based on solid data research, they identified the collective Twitter and Facebook following across the charities they'd heard about at the Hack to show the potential giving total. They then designed a lottery app that could be used to encourage giving across that audience, with all donations going directly to support charities.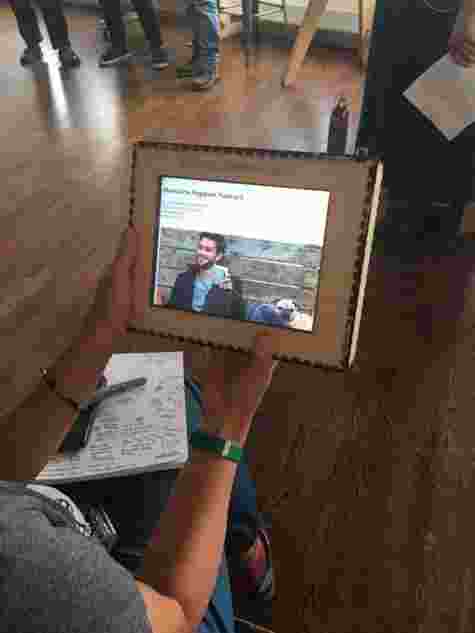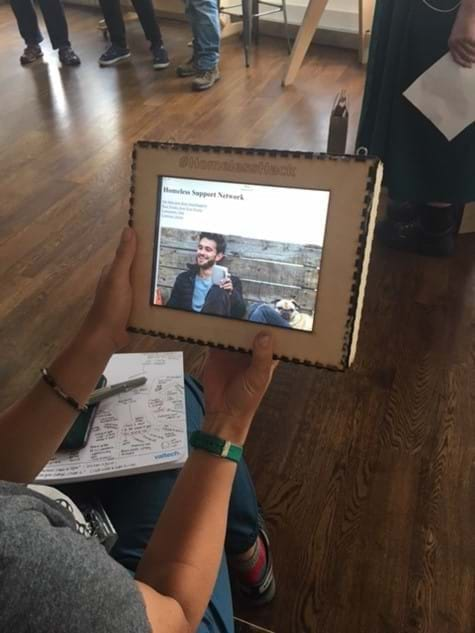 Team "HackPack" identified that the use of captive portals - the web pages you see when you sign up for free WiFi - could be used to promote key support services and charity details. There are many over the city and they are widely used by those without broadband plans (McDonalds, public spaces etc).
They went a step further by building a prototype mobile charging station that worked as a WiFi hotspot. This would allow people on the streets or in crisis to charge their phones, access free WiFi and see targeted information when signing up. A great all round team effort that covered content, connectivity and affordable hardware solutions.
Team "Rooph" designed a solution for signposting people to key charity information, namely support service, contact information and opening times using retail screens, kiosks and public information boards.
They designed the interface and managed to test the feasibility with users, by taking the prototype out and interviewing people on the streets, including those for whom English isn't their first language. A great way to take over existing broadcast technology to scrape and promote information already available across a multitude of charity and support service websites.
There was a great talk from Dr Kim Foale and Dr Liz Calder on how we need to hack the policy and networks at these events and not just the technical solutions. They mapped the complex landscape around the needs of a person beautifully, whilst also highlighting the political structures and organisation that can help but also get in the way.
Identifying the positives and limitations of hack approaches, Kim shared some insights into how hackathons could become more effective workathons. A really great approach that will no doubt lead to on-going research in coordination with organisations like Street Support.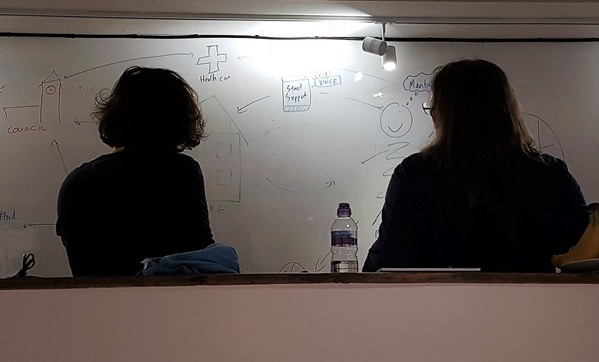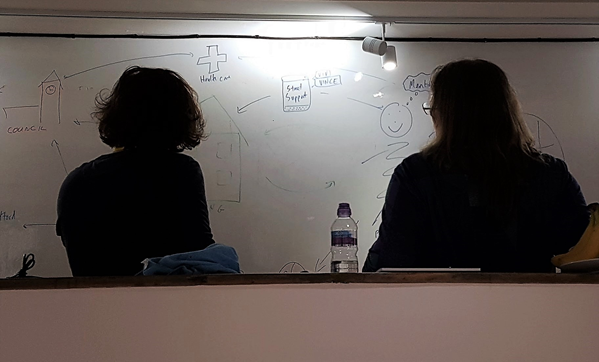 What next?
As part of our commitment to help build a homeless hack community, we have shared all the data, research, presentations, reports, statistics and team outputs publicly, to hand the baton over to the next event team, on https://homelesshack.github.io/. We really hope that the hack in Manchester will form part of a larger movement and we can see that momentum is picking up already.
We're really honoured to have helped the seven teams in Manchester join the work of a grassroots effort to tackle a nationwide problem, continuing to support the amazing work of those already working on this problem, shining a light on their efforts and giving power to their elbows.
To all involved - great work. It was a pleasure to work with you. We look forward to supporting the next events and seeing the outcomes from these ideas move into pilots.