My work experience week with Nexer Digital


Sales, Marketing and Events Manager
Hal writes about his work experience week with us, what he's been up to, and his learnings along the way.
This week we had the pleasure of welcoming student Hal to the team, with us for work experience. Hal spent the week learning more about the work we do, helping us out with preparations for Camp Digital 2022 and chatting with our team about how we can increase accessibility and inclusivity for online events, meetings, and our work on Microsoft teams. We were also lucky enough to enjoy plenty of screen cameos from Hal's wonderful cat Cherry, which let's be honest, is always a very welcome addition.

As well as helping us out with plenty of projects, Hal has also put together a blog, covering his week with us, what he's been up to, and what he's learnt along the way. 
My week at Nexer Digital 
This week I was lucky enough to be provided work experience by the accessibility and events teams at Nexer.
On day 1 I was introduced to Cat (who acted as my buddy) and Chris (who acted as my supervisor). I then learnt about Camp Digital, with Cat explaining the issues with accessibility and inclusion in an online event. They offered me some articles to read on improving accessibility and inclusivity, which allowed me to gain an idea of challenges they may face with improving the online conference experience for people with disabilities. This was particularly interesting because online accessibility isn't something we think about a lot. After all, we take for granted the simple tasks that may introduce challenges for others. 

We then organised some demos for the possible streaming tools we might want to use for Camp Digital. I had never had to organise any kind of meeting before so learning the process in a corporate sense was intriguing. Once we had completed organising the demos I had a call with Molly (Usability and Accessibility Consultant) and Danny (Accessibility Test Analyst). Molly talked about the challenges of being deaf-blind, how she helps companies consider and improve accessibility for their employees and the training she is doing in UX. Danny talked about how he tests sites and informs clients on the issues with the accessibility of their digital products and how they can fix them.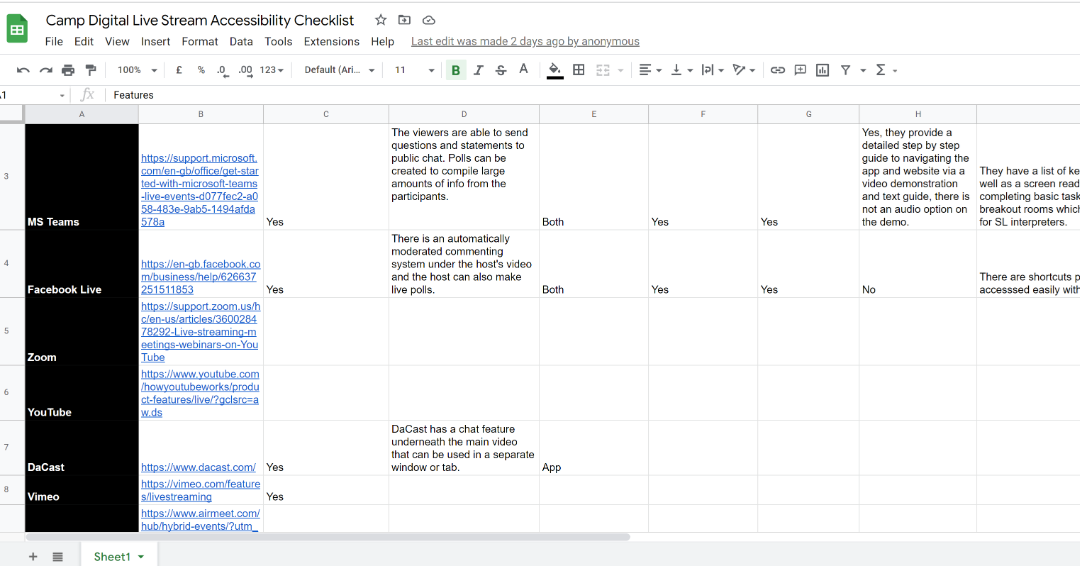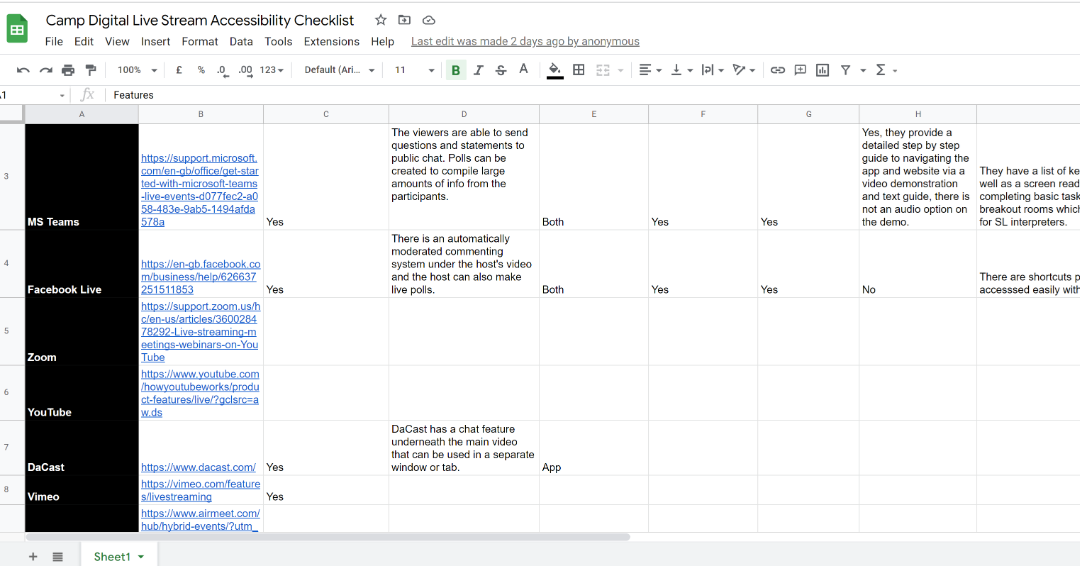 Hal and Cat's Camp Digital live stream accessibility checklist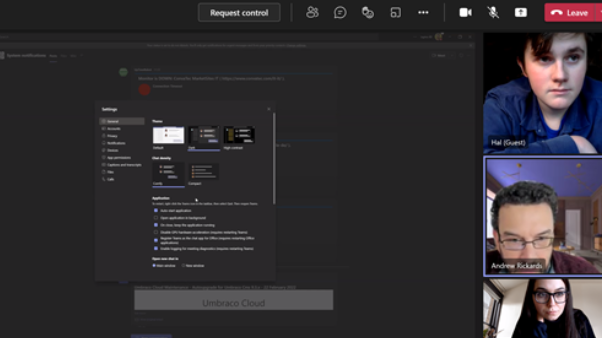 Andrew talks us through accessibility features on Microsoft Teams
Later in the week Chris and Cat had a meeting with the Hopin sales team which they then briefed me on, giving me an idea of what they offered. We also held a meeting and saw a demo from Conference+ who talked us through their live stream accessibility features. I was given the task of looking at the pricing structures that the platforms would offer for Camp Digital. Having a proper look at costs for these events gave me a useful insight into corporate budgeting and the care that goes into planning such events.

On day 4 Andrew showed me the full capabilities of MS teams, using work he had done advising the NHS on working with teams. This included captioning and transcription, video recording and wellbeing apps to help users with planning their work in the way that works best for them.

Along with some of the material Molly and Danny had sent me from previous work with clients, I used this to create a checklist of accessibility and inclusion advice for companies setting up meetings. 



Tips for making your online meetings accessible and inclusive
Make sure inclusive language is used
Provide audio alternatives for the written information 
Provide captions and or SL interpreters for the hearing impaired
Make the visual assets diverse e.g. change the colour of the screen for those with visual stress
Provide an alternative way to access the meeting without video
Make sure that everybody feels comfortable sharing issues they may have
Provide ways of giving feedback after the meeting so that you can improve your inclusive measures in a way that is tailored to your co-workers.
My experience with Nexer has been extremely positive and I feel like I have been given really good exposure to the world of work. I went into it with an intention of finding out more about accessibility and feel like I have learnt about the issue from a number of different perspectives and seen new ways of approaching it, especially online. 



And from us, a huge thank you to Hal for all your hard work this week. We hope you've had a great time here with team Nexer. :-)