What we've put in our mental health first aid kit, and why
How do you manage your wellbeing at work? For 2019's World Mental Health Day, we wanted to talk about our culture and ethos around mental health, and how we like to support each other.
We've had a lot of interest in the Mental Health First Aid kit I put together for our Cambridge office as a team Christmas present, back in December 2018. The aim was to bring together a range of different 'things' to give people choices of what to interact with, based on their personal preferences and their specific situation.
So, here's what's in the kit and why I put it there, together with suggestions from others I've had since.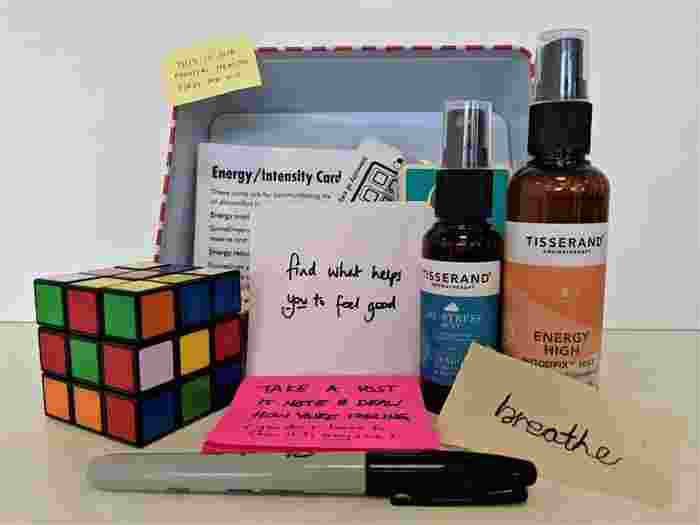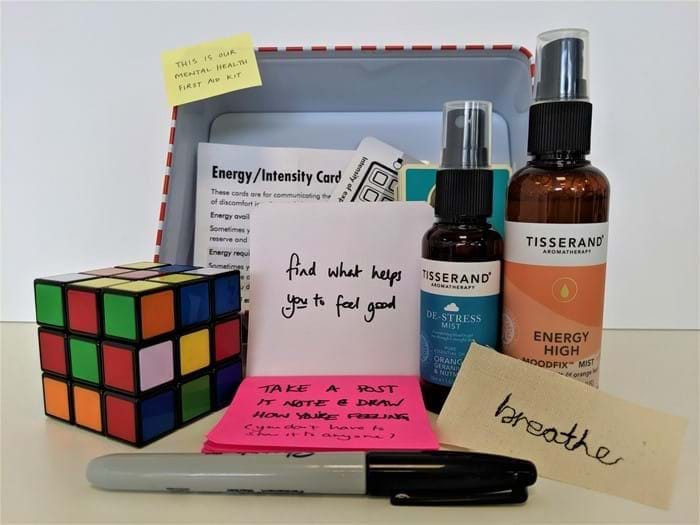 It's easy to level criticism at kits like this because they can be seen as virtue signalling. Because I've seen people in our team using our kit, I don't feel overly concerned about that in our case. We are lucky to work with clients who deliver mental health support, so we're aware of the severity of the problems some people face and the increased demand for professional input. This is not about downplaying the issue.
For us, this is about our general wellbeing, team culture, and daily micro-actions. Here at Nexer, we also have a trained mental health first aider, and we regularly have conversations about how we can support each other's wellbeing, even when agency life is demanding and stressful (obvious caveats about no organisation being perfect, and there's still more we can do, etc, etc).
For your own use, you can do your own audit about that, if you decide to pull together a kit – is this just about a single standalone kit, or is the kit part of wider efforts you're making?
What's in the kit?
Energy cards – to establish how your energy is in this moment, and take some steps to recover and / or adjust your task or environment, to make it less tiring. Download yours from Dropbox to print at home, or purchase a pre-printed set on Etsy (From Alastair Somerville @acuity_design)
Sticky notes – to draw how you're feeling, inspired by this funny, charming, calming youtube video from Peter Draws. As Peter says, "You don't have to show (your drawing) to anyone, and you don't have to tell anyone you're doing this."
Essential oil 'destress' mist – to spray and sniff and get an instant hit of calm
Essential oil 'energy high' mist – to spray and sniff and get a mood boost
Rubix cube – to fiddle with for a while, a distraction
To be honest, I pick it up and play with it when I'm stuck or frustrated, and after a while I'm so frustrated with my inability to solve it, that I've forgotten what was originally bothering me
'Breathe' mini embroidery – to provide an instant, visual prompt to breathe more deeply
'Knock Knock' joke cards – to provide some light relief
These jokes are so bad, you end up groan-laughing. And they often lead to other conversations about funny things we've seen or done.
'Find what helps you to feel good' card – a reminder that wellbeing choices are on an individual basis
PASS RE+Minder cards – I'm looking to add these to our kit soon and I can't wait for them to arrive from Canada so I can see what they're really like. The front of the cards have short, 'tweet-length' advice for easy reading when you need them, and the backs offer additional supporting materials. (from mypasskit.com, $5 CAD plus shipping per set).
How are we using the kit?
At the moment, all of this stuff is stored in a metal tin right next to our regular First Aid kit. I'm currently helping my teammate Rick, who's based in the Macclesfield office, to set up a similar kit for the office there. He has suggested that, rather than everything being in a box, different objects are spaced around the office so they are in easy reach. I like this suggestion, and I'm looking forward to testing it with him.
If you put together a kit, I'd love to know about it – send us pics at @wearesigma and @loushackleton, noting that @francisrowland sometimes swipes the best ones to feature in a talk ;) Also read our follow-up post, where we talk about the most used items in the kit, our observations on language and get some extra inspiration on what to put in your own kit.