Fill Yer Bags - trying to do something practical for Christmas and our local communities


Prompted by a tweet from Sharon Dale, a truly excellent connector of people and joiner of dots, we've decided to use the positive aspects of social sharing to encourage some practical action with local impact this Christmas. Sharon shared the Fast Company article on how we could reduce wasteful spend on conference swag. This followed a Tweet earlier in the week from our friend and design ethicist Per Axbom, on meaningful Christmas campaigns:
Started thinking about all the stressed people working like crazy to put together an advent calendar for their business in time for December. One of those situations where effort likely surpasses any value received or given 🎅.
I'll just leave this here..
We decided to stop using swag bags at Camp Digital a couple of years ago, as filling them alone took a full day and it led to chaos at registration (others do it better, admittedly). We also struggled to know what to put in them, it was a pain for sponsors to get stuff to us and we had a lot of swag left untouched. For the last couple of years, we have instead provided pens, notebooks and some stickers, for attendees to take, optionally, from the main desk.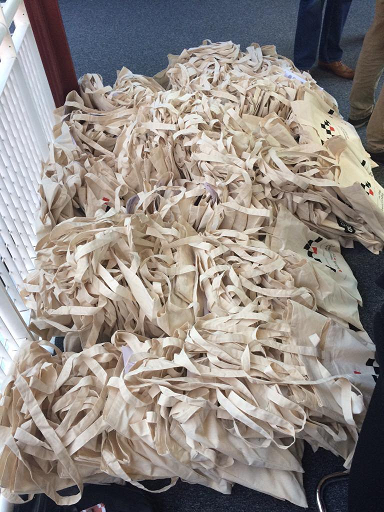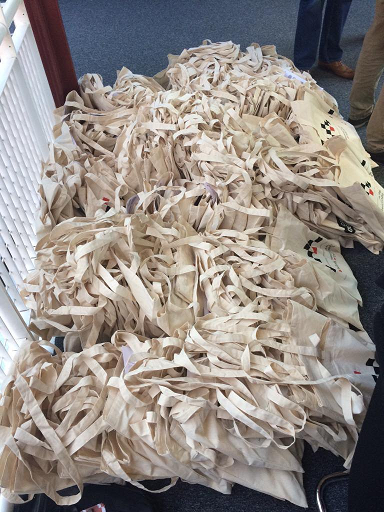 So joining the dots between Sharon and Per's tweets, we decided to dig out the empty bags we still have in deep storage and give one to each member of our team. We will contact local foodbanks or homeless support charities close to our offices in Macclesfield and Cambridge, find out what they need and fill the bags with essential, useful items.
Given the number of meet-up events and conferences held across the design and digital community, we wondered how many others have a similar hoarding problem? Responses to Sharon's tweet suggest a few of you are going to ditch the bags in future conferences, so if you do have a glut of tote bags, it would be great if we could make this spread. With no desire to coordinate this or promote ourselves* we thought a few pointers might help:
Support what's already happening - a vital lesson from our involvement with the Homeless Hack movement was it's important not to get in the way of great work already being done. So find out what campaigns are already running and ask them what they need and when, including considerations around logistics and demand
Think locally – it would be great if we could get this happening nationwide but it's probably more practical to engage directly with local charities and their distribution plans
Keep it simple - filling the one or two bags you have under your desk from conferences you've attended this year might be welcome by local charities or shelters
Encourage others - if you work in a shared building, ask the management team if it's ok to place some bags and guidance for filling them in a shared space
Share your progress – we are using #FillYerBags on Twitter. If you do the same, it would be amazing to see what we can achieve collectively, plus that hashtag is a nice way to offset some of the overt consumerism around Black Friday and Christmas shopping deals
We're not sure what will happen with this but we will have 30 - 40 bags to donate. A bit of positive digital community engagement and affirmative Twitter action might be a nice way to end the year.
* It's quite hard not to promote yourselves when the tote bags have a massive event logo on them but we mean well